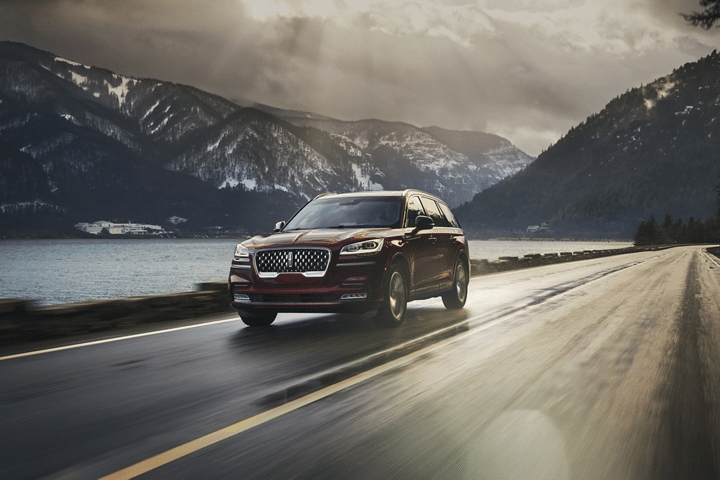 Lincoln is all about luxury. With the 2020 Lincoln Aviator, you get luxury combined with space. Whether you are driving the hockey carpool or going on a family road trip, you will ride in comfort and style.
If you live in the Dutton area, then come in and visit Cotrac Lincoln. We focus on Lincoln vehicles and are ready to answer your questions. Whether you are a lifelong Lincoln driver or are looking for the first time, we are here to help.
The 2020 Lincoln Aviator is not just any old SUV. It is the best of the best from the outside all the way down to its engine.
Model Comparison
The 2020 Lincoln Aviator comes in two models: the Reserve and the Grand Touring. The Reserve has a conventional engine, and the Grand Touring is a hybrid. Besides fuel power, there are a few differences between the two models; whichever model you choose will be superior to other SUVs out there.
The Reserve starts at $63,821

The Grand Touring starts at $75,083
A Series of Firsts
The 2020 Lincoln Aviator comes with features never before seen in a Lincoln vehicle. From drive assist features to Pixel LED Headlamps, your Aviator is ahead of the rest.
The Pixel LED Headlamps adapt to the road and your speed. On the highway, they shine further ahead, but when you slow down, the beam widens, allowing you to see what is alongside the road. It uses cameras to predict the bends in the road and illuminate the right direction to go.
Driver-Assist Features
Your Aviator is designed to keep you safe. With a variety of driver-assist features, you can travel worry-free.
Adaptive Suspension with Road Preview: A front camera is focused on the road ahead. If something unusual appears, such as a pothole, the system prepares the suspension to make driving over it as smooth as possible.
Keeping your eyes on the road is crucial when driving. Your Aviator makes it easier to do just that with the Head-Up Display. On the windshield, you can choose to display the information of your choice.
When a door is ajar, you are alerted by a chime recorded by the Detroit Symphony Orchestra instead of a harsh dinging.
Co-Pilot360 Plus enhances your driving and safety. This package of features includes:
Adaptive Cruise Control

Evasive Steering Assist

Reverse Brake Assist

Active Park Assist Plus
With all these driver-assist features, getting in an accident takes effort.
Entertainment and Technology
For those in the backseat, looking out the window can get boring. Your Aviator comes with a subscription to Lincoln Connect to keep them entertained. With 4G LTE Wi-Fi available for up to 10 devices, you will never hear a complaint of boredom.
Keeping track of your phone is always easier than keeping track of a set of keys. With an active Lincoln Connect subscription, simply download the Lincoln Way app to turn your phone into a key. If your phone happens to run out of juice, you can enter a backup code to start up your Aviator.
For you and your front-seat passenger, you can do it all hands-free with SYNC 3 AppLink. AppLink lets you access the apps on your phone from the central touch screen, using only your voice.
Whatever your taste in music, with the Revel Ultima 3D Audio System, everyone will feel like they have front-row seats. With 28 speakers precisely located, you don't just hear the sound; you experience it.
Comfort and Space
With seating for seven, driver included, you can fit your friends and family and still have enough room to be comfortable.
Your Aviator wants to make things as smooth and easy as possible. With just a light touch, you can open the doors or fold down the third-row seats.
Power and Handling
With rear-wheel drive, all the power is in the back. Your Aviator will push you into the future while you feel the control of all-wheel drive.
Glide Suspension
You can opt to replace the traditional hard coil spring suspension with Glide Suspension. It uses air bladders, which inflate and deflate to make your ride like gliding on air.
With this suspension system, your Aviator will kneel down every time you approach. Once you select your drive mode, it will adjust the bladder fill accordingly.
Drive Modes
An easy-to-turn dial sits in the front center console, allowing you to pick the suspension settings that suit your mood. The Grand Reserve comes with two extra modes that let you enjoy a quieter ride.
The 2020 Lincoln Aviator for You
Whether you prefer the performance of the Reserve or the lower emissions of the Grand Touring, the 2020 Lincoln Aviator is meant for you.
It combines power with sleekness and comfort with design. No matter where you are driving and who is with you, the ride is always fun.
Here at Cotrac Lincoln, we have the Aviator for you. Take a look online at our inventory to find the Aviator that suits your needs. Once you find it, give us a call or come in to make it yours.