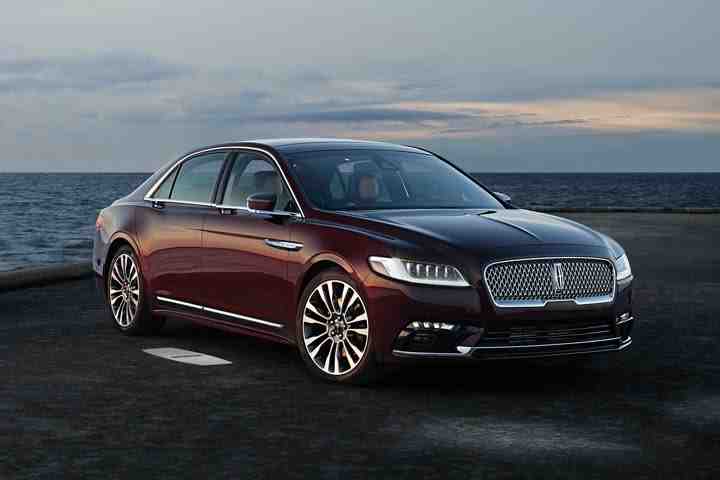 How many can remember hopping in the backseat of Grandmother's Lincoln? The soft plush, bench-style seat invited a child to lie down, while the sound of the road beneath the tires sang a perfectly pitched lullaby. It was the best sleep of our lives!
The professionally trained salespeople at Cotrac Lincoln on Currie Road likely have similar stories to share. They will also tell you that today's Lincoln is a world away from the Lincoln of long ago. With gracious interiors, luxurious features, life-saving safety innovations, and incredible technologies, Grandmother could only dream of a vehicle like this one!
Interior
Designed with grace in mind, the seamlessly connected center console and laser-cut rolltop cup holder door use connecting lines to accentuate elegant lines and flow. In-door seat controls, a front driver's seat that fully retracts as you exit, striking wood inlays, and available rich leather surfaces provide further elegance.
Available leather seats with power lumbar support, massage, heating and ventilating, and ample legroom make this backseat a showstopper. The Rear-Seat Amenities package has features that include climate and audio controls and rear-window shade screens, too.
Features
In addition to typical paint schemes, we also offer two monochromatic color packages: Pristine White or Infinite Black. Sleek elegance is yours with either of these options.
Adding to your smooth travels, Active Noise Control uses microphones to monitor the sound levels inside the cabin. Opposing acoustic waves are emitted through the speakers to cancel out unwanted noise, enhancing cabin sound quality.
Auto Hold allows you a complete stop that can only be disengaged with the use of the accelerator. This provides a level of comfort that there will be no sudden start, should your foot move from the brake unintentionally.
And for adding a glamorous touch, this lighting feature will impress you. As you approach the vehicle with the key fob in your hand, the vehicle initiates welcoming sequences that include a glowing Lincoln logo welcome mat projected on the ground by the driver and front passenger's doors. Headlamps, taillamps, and door handle pockets illuminate to allow for ease in entering the vehicle, and softly-colored ambient lighting brightens the cabin as you enter.
Safety
Eye-catching design, luxurious interiors, and fancy features are important. The most important features in the new Lincoln are the ones designed for your safety. The Lincoln Co-Pilot 360 System includes the following safety features:
Pre-Collision Assist With Automatic Emergency Braking
Pre-Collision Assist uses in-car technology to scan the road ahead and alert you to potential collisions with vehicles or pedestrians it detects in your path. If an object is detected, a warning flashes on the windshield and an alarm sounds. If you are alerted and take no action, the brakes are applied automatically. The brakes are only applied if you need them - not if you don't.
BLIS (Blind Spot Information System) with Cross-Traffic Alert
Active even when you're not moving, radar systems on either side of your car detect when a car is present and in your blind spot. A light comes on in the corresponding side-view mirror to alert you to the vehicle you may not be able to see. *This system only detects motorized vehicles, not bikes, walkers, or other objects.*
Cross-Traffic Alert warns you a moving car is coming from either side when you're backing up with three alerts: a light on the corresponding side-view mirror, a chime, and a message in the message sensor.
Auto High Beam Headlights
Offered as a standard feature, the auto beam headlights can sense poor lighting conditions and automatically turn on to increase visibility. It also senses when another vehicle is coming from the opposite direction and dims automatically.
This feature keeps you in your lane, especially in a moment of distraction, by constantly scanning your positioning within your lane and alerting you should you deviate from it.
Technology
TIDAL, a streaming music and entertainment service, allows subscribers access to more than 60 million songs. Lincoln drivers can experience this music in full-cabin surround sound, and new owners receive a free six-month trial subscription.
SYNC 3 provides users with easy-to-use voice-activated technology. With a smartphone-like touchscreen, you can easily stay connected to entertainment choices, navigation systems, and more.
Lincoln+Alexa brings the convenience of your Amazon Alexa to your journey. By using the Lincoln+Alexa app and connecting via SYNC 3 AppLink, you'll have access to traffic information and Amazon Prime shopping. You can even control your supported smart-home devices from the comfort of your vehicle.
Ask one of our knowledgeable salespeople at Cotrac Lincoln on Currie Road to let you experience the glamour and luxury of our new Lincolns for yourself. Grandmother would be so very proud.